Get a mortgage from a team you can trust
Trusted for over a 100+ years
You can get a home loan anywhere today. It's nice to get a loan from someone local, who cares about you, knows who you are, and lives in your community.
What do you get when you get a mortgage with us?
You get more than just a mortgage
Whether you're just starting your home buying journey, or are ready to put an offer on the table, our dedicated team of loan officers is here to help.
The loan application process
What it takes to get started
Chapter 1 – Before you start looking
Are the you ready to take out your first mortgage? Is buying or renting the smarter financial decision?
Learn how to prepare and start saving to buy a home, what the home buying process looks like, everything you should know about realtors, and more…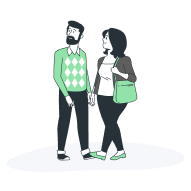 Chapter 2 – From shopping to closing
Do you know what you should do when you've found THE house? Increase your odds of getting your offer accepted.
See how to make an offer on a house, why and how you should include a buyer's offer letter, and most importantly how to be prepared for closing day.
Chapter 3 – What you need to know about mortgages
What does it mean to be pre-approved or pre-qualified? How does your credit score affect your home loan interest rate?
Choosing the best mortgage loan for you can be tricky. Here's what you need to know and a checklist to keep things organized.